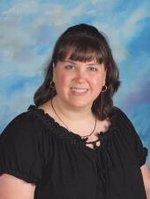 Kindergarten Teacher
Phone: (706) 632-5772
All About Your Child's Teacher
My full name is Danette Michelle Chancey Hughes. I am the daughter of Brenda Chancey and the late Walter Chancey of McCaysville. I have an older brother named Scott who is currently living in Greenwood, SC.
I am a 1993 graduate of Fannin County High School. I went to Young Harris College for my first two years and graduated with my Associates in Science Degree on June 4, 1995. That fall, I transferred to Berry College in Rome where I received my Bachelor of Science degree in Early Childhood Education. In 2003, I earned my Master of Arts degree in Early Childhood Education and in 2004; I earned my Education Specialist Degree in Curriculum and Instruction. Both of these degrees were from Piedmont College. I have been teaching kindergarten here at Blue Ridge Elementary since 1998.
I am married Andy Hughes of Blue Ridge. We have two children (twins) Autumn Alexis and Alexander Aiden.
If you have any questions, please let me know. You can always reach me by phone at 632-5772 or by e-mail: dhughes@fannin.k12.ga.us.