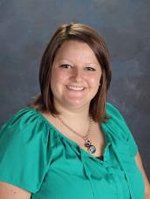 Counselor
Phone: (706) 632-5772
Education
Mrs. Ragsdale began her education at Georgia Highlands Community College, in Rome, GA, where she graduated with an associates degree of Applied Science in Human Services in May 2007. She continued her education at Berry College, in Rome, GA, where she received a bachelors degree, majoring in Psychology and minoring in Family Studies in December 2009. After the completion of her bachelors, she continued her education receiving a masters degree in Professional School Counseling and certification in school counseling in December 2011.

Experience
This is Mrs. Ragsdale's first counseling job. In the past, she has worked in pharmacies and at Berry College. She was also a substitute teacher before she began counseling. She has had field experience in a children's home, youth detention center, a daycare, a middle school, and two elementary schools. She has also tutored children at multiple elementary schools. Mrs. Ragsdale has had the opportunity to work with students in multiple settings and knows the school is where she should be!

Bio
Mrs. Ragsdale is from Cave Spring, GA, which is a very small town outside of Rome, GA. She attended Cave Spring Elementary, Coosa Middle, and Coosa High where she graduated. She has been very active in church for a majority of her life, where she led middle school and youth groups. She loves to sing, read, and has always been a fan of Disney. Her favorite foods are Chinese, Chick-fil-A, and anything chocolate! Her favorite color is purple and favorite hobby is shopping! This is her second year at Blue Ridge Elementary School and she is looking forward to what is to come!